Adding a striking extension to a property can often be a fantastic way to rejuvenate a house that has seen better days, or add value to a property with some spare land. When it comes to a new build or a new development, though, planning ahead by looking at some great designs can help to shape your initial build. Here is a selection of some of the best extension designs around, from smaller add-ons with a unique look, to larger projects that could almost be houses themselves!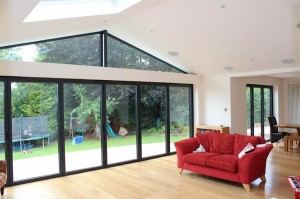 Whilst it may look simple, this house extension is made by the unusual use of the triangular glass panels above the living room area. Where normally the roof would be flat, or end in a larger amount of ceiling, this design maximises the already vast amount of light flooding into the room and gives the extension a more unique feel. It looks great from the outside too, avoiding adding an out-of-place flat roof to a pitched roof home.
This incredible project extension completely changes the look and feel of the detached house it connects to, adding in an office unit with a floor-to-ceiling view over the grounds. Though bold, the simple glass structure guarantees that it would match pretty much any building it was added to and creates not just space, but a much more modern feel for a fairly traditional property.
As with the above design, modernising a fairly traditional house can be risky, but this approach from Elmo Stuart perfectly blends in with the thatched property it attaches to, whilst also creating a new modern face for the house, full of light. It's also a great example of dual purpose extension: note the creation of the car port facility!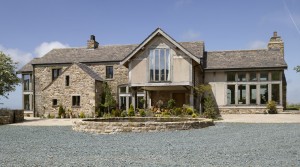 Whilst we think of many modern extensions as often being glass and steel, Border Oak show that that doesn't have to be the rule. As part of this barn conversion, the firm planned the front and side extensions in natural wood: a nod to the building's history and perfect match with the country interior. If you've got the property to match then a traditional extension can look just as fetching as a more modern design.
Sticking with the traditional theme, just look at this sizeable yet modest extension, which really keeps the style of the house it is attached to. Whilst a modern build could be accommodated here, this is perfect for keeping the look and feel of the original property intact.
Hoxton House in Hackney is a noted award-winning extension/conversion project, which shows that you don't need acres of grounds to catch the eye. Again using glass and a modern interior, this two-storey extension on a four-storey house uses a variety of shapes to make the new section of the property the focus. There's no reason why a new development shouldn't take this approach in the initial design phase.
Please be aware that by clicking on to the above links you are leaving the Ascot Bridging Finance website. Please note that Ascot Bridging Finance is not responsible for the accuracy of the information contained within the linked site(s) accessible from this page.
Your property may be repossessed if you do not keep up repayments on your mortgage.